Se refieren a cualquier objeto que pueda ser usado como arma de combate cercano, aunque sean improvisadas. Se les conoce como armas melee o de corto rango. No deben ser confundidas con las armas de fuego.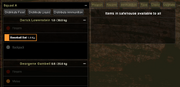 Las armas melee son de corto rango. Tienen sus propias ventajas y desventajas comparadas con las armas de fuego. Aunque son de corto rango, lo que significa una mayor probabilidad de ser herido (especialmente contra otros jugadores equipados con armas de fuego), no requien municiones y son más fáciles de obtener. Muchas de estas armas son objetos cotidianos usados por desesperación.
"Máxima fuerza" (Maximum melee strength) representa el "poder" del arma cuando es usada por un sobreviviente con 100% de la habilidad "Skull Crusher". Un sobreviviente con sólo 50% usará el arma con la mitad de su fuerza máxima, y así sucesivamente.
Las armas de combate cercano forman parte del sistema de Deterioro de Armas, y se deterioran con el uso. Al deteriorarse el máximo poder del arma disminuye y la probabilidad de que el arma reaccione mal al uso aumentará.
Como parte de las recompensas a los jugadores de la fase Beta cerrada, a los jugadores que participaron se les otorgaron algunas armas indestructibles que no se deterioran con el uso
Armas individuales
Edit
Ad blocker interference detected!
Wikia is a free-to-use site that makes money from advertising. We have a modified experience for viewers using ad blockers

Wikia is not accessible if you've made further modifications. Remove the custom ad blocker rule(s) and the page will load as expected.